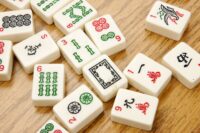 Play Mahjong
Mahjong or mah-jongg is a tile-based game that was developed in the 19th century in China and has spread throughout the world since the early 20th century. It is played by four players. The game and its regional variants are widely played throughout East and Southeast Asia and have also become popular in Western countries.
After completing the beginner class, participants are continuing to play on their own.  Instructors will be brought in on occasion to support players.
This group meets weekly at Town Hall in the Select Board Room on the 2nd floor.
Contact the office if you have any questions or want to register at [email protected] or 508-651-7858.