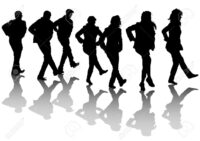 Line Dancing
New for the Fall – Line Dancing Returns
SEPT. 20, 27, OCT. 4, 11, 18, 25
LOCATION: TBD @ 10:00 am
COST: $30.00 FOR THE SESSION
Come join the line dance class for some great exercise. We will be offering this new class as long as we have enough participants. 
Dancing is the perfect combination of physical activity, social interaction, and mental stimulation. It's a full-body workout for the mind, body, and spirit.
Join our beginner-friendly line dance class. We'll take you through fun and easy-to-learn line dances to a variety of music styles. We have something for everyone. Dance your way to a fitter you!
Beginner line dancing is great fun while you improve memory skills, strengthen bones, develop better balance, relieve stress, and put a smile on your face. Each dance is broken down first, demonstrated, and then danced to contemporary music that you will enjoy! No need to have a partner, it is something for everyone and no experience is necessary!Dance
Instructor Lisa Abbascia O'Leary is the owner of Backstage Dance Center in Ashland and holds a BFA from The Boston Conservatory at Berklee.
You can register for class by emailing [email protected] or by calling the office at 508-651-7858.