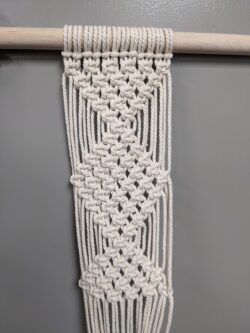 Make a Macrame Wall Hanging
Macrame is back in vogue! Come learn, or relearn, the foundation knots and principles of macrame while making a modern wall hanging. With clear step-by-step instructions from Heather and a bit of patience for learning, you will knot your first masterpiece. No prior experience required.
This class will be taught by Heather Labenski who is a certified professional knitting instructor, Heather teaches fiber crafts with joy, clarity, and knowledge. Her studio, HeathKnits, in Walpole is busy with knitting, crochet, sewing, weaving, and more . Heather looks forward to guiding you to success in your projects.
This class is intergenerational, all ages welcome. This is in partnership with the Sherborn Public Library and funded in part by the Sherborn Cultural Council.
This class will be held at the Sherborn Public Library.